My entire life, I've been cursed to not live near a city that had the ultimate Swedish big box store nearby. That's right y'all, I'm talking IKEA. I've always felt cheated, not knowing the joy of hard to pronounce furniture, home décor, and meatballs. So you can imagine my joy when, lo and behold, those Nordic gods of furniture have finally smiled on Missouri and are opening not just one, but two IKEAs within a relatively proximate distance, in both Kansas City and St. Louis. Ribba frames will soon be mine!!
Now, I've been a browser of IKEA catalogs since the beginning, and their arrival, though depressing (due to the lack of an actual ability to purchase anything,) have still managed to fill me with joy. I love the examples of tiny apartments arranged by collection. I love their little décor suggestions interspersed throughout the photos of multicultural families lounging upon their perfectly arranged furniture groupings. I love pillows in the shape of hearts who can hug you. So naturally, I tore into this year's catalog with ever increased fervor, knowing that my decorating dreams were finally within my reach.
I haven't talked a lot about it on the blog, but I'm actually really trying to move into a slightly bigger place, so it's been the perfect time for me to begin considering my home décor, the pieces I have and love, or pieces that I'd like to add, so the arrival of this year's IKEA catalogue has been pretty perfect. I have a very eclectic style, with a lot of either vintage, or vintage-inspired pieces, and it's important to me to thoughtfully incorporate appropriate new pieces into my current collection without having one of those, oh jesus this person furnished their entire home from one store, looks going on. I'm scoured the newest catalog for some of my favorite pieces, some that are slated for my future home wishlist, some that I'd love to do a few little tweaks to, and a few others that I just love, even if I have no need for them. (I'm looking at you pink sofa.)
//
KLIPPAN sofa
// I should start off by saying that I have absolutely NO NEED for another sofa. And I honestly haven't ever been very impressed with the klippan series in the past. But that was until they covered it in pink leather. I want a pink sofa so bad.
//
STRANDMON chair
// This chair looks like it came out of a Dr. Seuss book, and that is one of the main reasons I'm obsessed with it. Yellow is also my favorite color. Sooooo I really want this. I'm thinking a great little reading nook chair ?
//
KNAPPER floor mirror
// I recently read (like every other blogger on the planet, I know,) The Life Changing Magic of Tidying Up by Marie Kondo and it was super insightful for me. I haven't gone full frenzy throwing things out yet, but I did get rid of a pretty obnoxious amount of clothing. I've been looking for a floor length mirror (so as to ensure that I don't forget to wear pants, or to make sure my skirt is appropriately paired with my moccasins,) and this one really jumped out at me. I love that you can hang tomorrow's outfit on the back so that getting ready is a breeze.
//
MOCKELBY table
// I've been wanting to upgrade to a longer family style table for a while now, and I really love how this one looks. There is no possible way that it will ever fit in my home currently, but hey, a girl can dream.
One of the things I've always loved about the catalog is getting some inadvertent design tips, and I'm really obsessed with the change-ability (definitely not a word,) of IKEA furniture to fit your needs. I love a good hack. The Sketion/Haggeby kitchen section completely jumped out at me with the addition of gold foil tape to the backspash and refridgerator. I love it mixed with the pink walls and stark white cabinetry. I really want to try this.
Speaking of DIYs (and things bloggers love, I know, I am following some hype,) but I really love the
Alex desk
. I'm moving toward more clean lines lately, and I think this would be a really beautiful addition to my living room/workspace (especially once I add some copper legs and details.)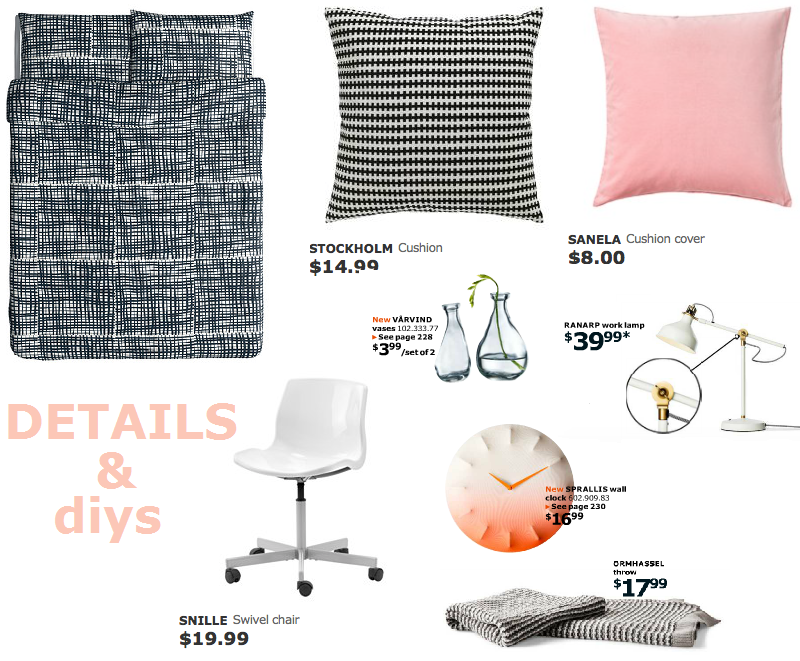 //
SNILLE swivel chair
// Copper is my jam lately, so you know I'm going to be spraying down the base of this chair with some copper spray paint and possibly adding a pretty fabric decoupage like in this DIY.
//
SANELA pillow cover
// I've been obsessed with this DIY from Sugar and Cloth for months now, and I will 100% be doing it with these covers.
// Black & White everything // I'm loving mixing black and white with pops of color lately, so you know I'm definitely going to be checking out some of these cute little extras.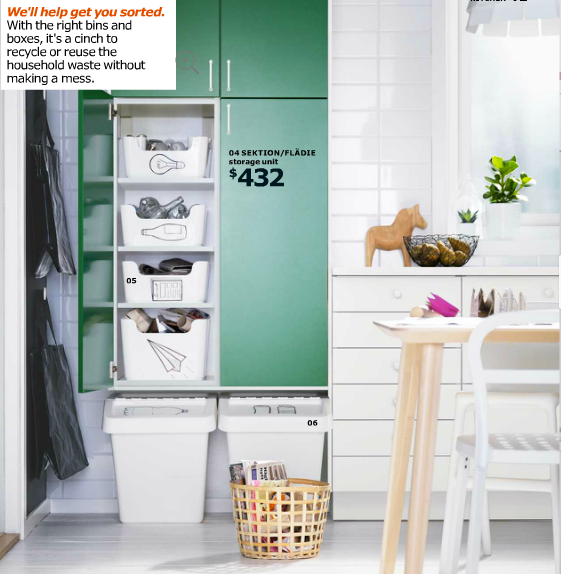 I've been searching for the perfect storage solution for my recyclables for quite some time now, as I pretty much rely on taking my stuff to work with me (the recycling center is right by my office,) and I'm pretty sure these might be perfect.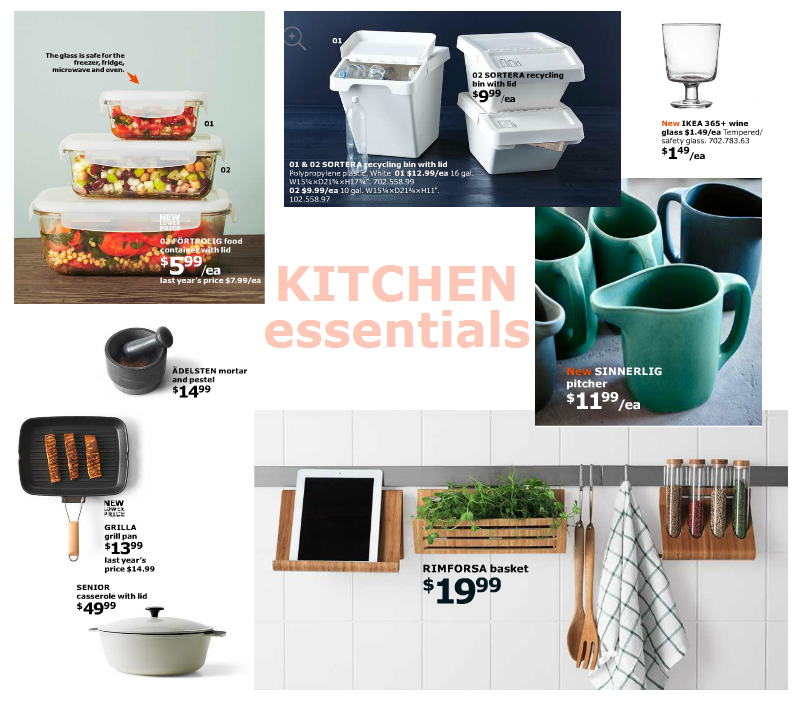 I'm really trying to be a better adult lately, and for me, that means increasing my cookware beyond one frying pan for all things. I recently bought a wok from Ikea when I was in Kansas City and have been using the crap out of it, so just imagine what I can do with the rest of these goodies. I especially love the
RIMFORSA
collection for the kitchen rails.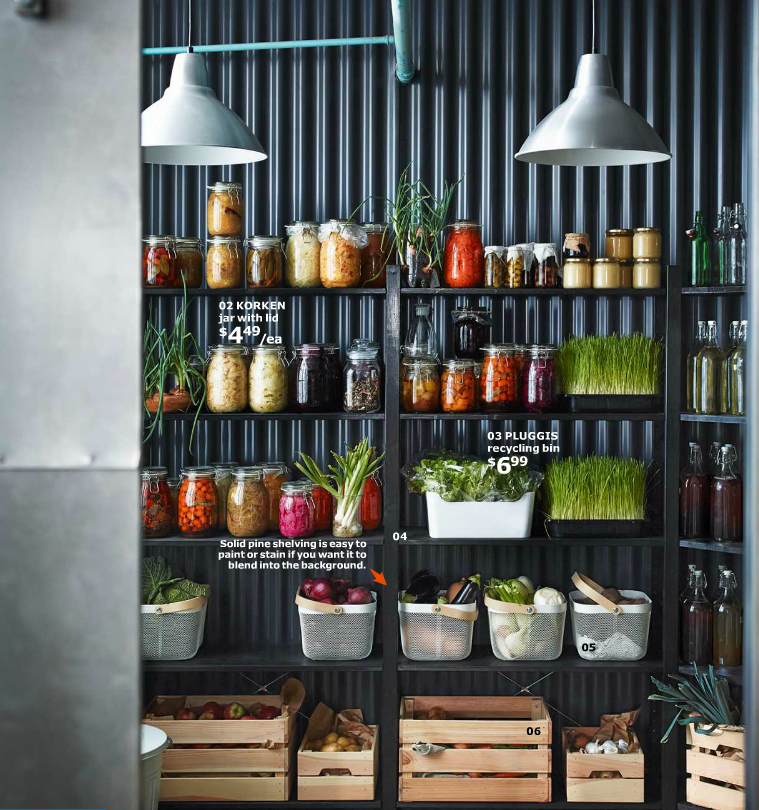 Isn't this pantry shelving and container collection amazing looking? Don't you want to have this exact thing staring you in the face every time you ponder cooking or takeout? I'd really like to get more into canning this fall, and this would make me so happy.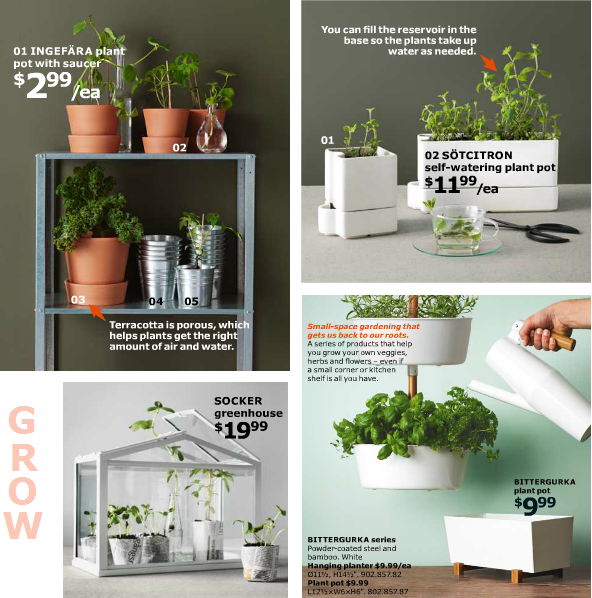 One of the other things that I've been getting more involved in is growing things, (SEE? ADULTING!!) and their pots and greenhouses make things super easy, affordable, and pretty. I'll definitely be purchasing the
BITTERGURKA
hanging planter for indoor herbs this fall, a variety of their terracotta pots( with built in saucers for less mess!) as well as trying their self-watering
SOTCITRON
pots for some of my more temperamental succulents. (I literally cannot keep string of pearls alive. I've killed two of them in a row now.) I'm also thinking of doing a cute little tabletop terrarium/diorama using the
SOCKER
greenhouse.