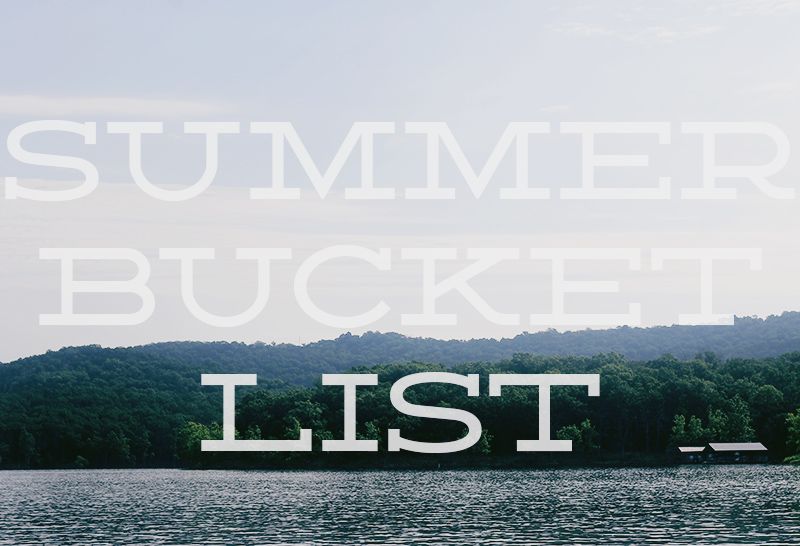 It's officially summer, and for me that means
I'm either attempting to spend as much time outdoors on patios, bicycles, in the farmers market, or floating in some sort of water.
I recently read Jes's Summer Adventure list and it was full of so many wonderful fun in the sun activities, it got me completely excited for all of the summertime activities that are awaiting us over the next few months.
Here are just a few of the things I'm hoping to do this summer:
Spend a rainy summer day at the movie theater: While I can generally found outdoors in my spare time, we also have our share of full day summer thunderstorms here in Missouri. These days tend to be muggy as all get out, so it's always best to find yourself somewhere cool indoors to while away the hours. I've always wanted to spend an entire day bouncing through different movies at the theater, and this summer's movie list seems quite adequate to keep me busy.
Go to a drive in movie: Who hasn't wanted to pull up to a drive in movie and catch a flick with the top down?
Slide the rocks at Johnsons Shut Ins: I've never been to the natural rock slides located a little north of us, but they always look so fun.
Go Sphering: Sphering, (when you get inside a giant inflatable hamster wheel with a bucket of water and ride down a hill) seems far too ridiculous and fun NOT to do.
Do yoga on paddleboards: My family recently bought a couple of paddleboards for the lake and while I've pretty much gotten the hang of actual gliding, I'm really interested in the yoga classes they're teaching.
Plan float trips: Floating is a time honored Missouri pastime, but I haven't been able to make any of the float trips planned by friends for a couple of years. This year I'm going to get a group of people together, grab a tube and some paddles and float away.
Bike to work at least once a week (but try for more!): I'm so close to work now that it's a quick little ride to and from work, so I'm excited to work it into my routine more often this summer.
Pizza Night at the Farm: My pals over at Millsap Farms (a local organic farm) put on a pizza night each Wednesday with farm fresh ingredients in a huge outdoor pizza oven. I'm so excited to go!
Stay up all night with friends under the stars: Completed! I recently had a totally random all night chat with a couple of pals on top of the roof watching the meteor showers and catching up on life. It was an unforgettable evening.
Spend as much time in the water as possible: Duh.
Sit on patios: There is nothing better than a rooftop patio on a warm night with a frosty beverage in hand.
Learn new summer recipes (especially using a grill): Last year I had my hand at grilling fruit (and making some yummy infused booze with them) but this year I want to expand my recipes to some new summer meals.
Try my hand at skeet shooting: My family are all big hunters, and while I've been a few times, It's been a while since I've done any type of target shooting. Skeet shooting just seems so fun!