*
Jones Design Co
is quickly becoming one of my favorite blogs to browse mostly because homegirl has an impeccable taste for decorating. On top of that, she's a pretty talented watercolorist, I love her seasonal essentials prints like this...(and you can download it on her website!)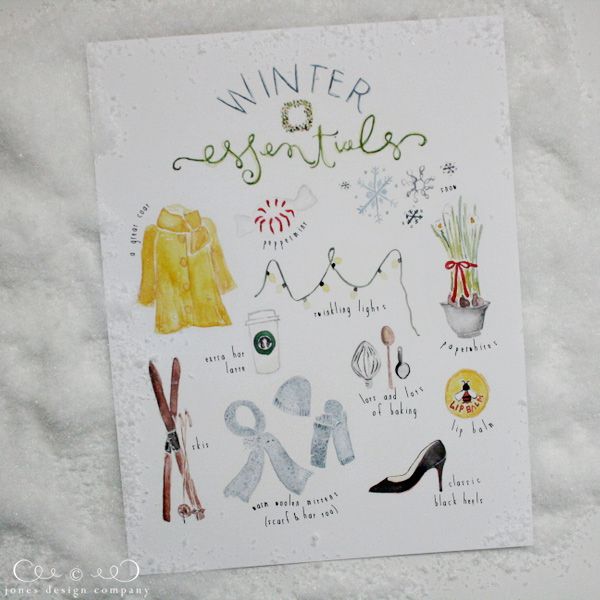 * Who doesn't know who Amy Poehler is? I would have died of joy if this happened to me.
*Jee Young Lee's dream photos are so beautiful. Go
here
to see a complete collection. (You won't regret it.)
* Oh goodness there's a parody trailer for
Love Actually 2
that just made me laugh. You're welcome.
♥ Links Loved ♥
* Did you know that both the Grammy & Golden Globe noms are out? It's like Christmas early for me!
* Planet Money has been doing an
excellent podcast series
following the creation of their Planet Money T Shirts from cotton plant to finished product around the world. It's so. fucking. cool! The latest installment
The Afterlife of American Clothes
is especially fascinating.
* So Macaulay Culkin is in a Velvet Underground cover band that changes the lyrics to relate to pizza. Check out
Pizza Underground.
I love how weird this is.
* Chilean Artist
Sebastian Errazuriz
has created one of the coolest conceptual art pieces that I've ever heard of. Here's 12 shoes for 12 exes. I'm obsessed. (And kinda really want them all.)
* 7 Way Sex and the City Lied to Us, How I Learned Carrie Bradshaw was full of shit AND In Defense of Sex and the City are all great greats. (In the Defense was my favorite... won't like still love SATC.)
* Uh they're making a Scary Stories to Tell in the Dark movie!!! I loved these books as a kid.
* Judy Bluhm and Lena Dunham together is magic.
* This
dad's response to his kids insane christmas
list is hilarious.
* but wait there's more...
parents send in their own children's wish lists
. God I can't wait to be a parent for the pure humor aspect of life.
* This is an awesome
secret santa exchange.