I just had a dream in which i had an amazing baby.
I had no recollection of actually giving
birth
to the baby, but somehow I knew that I'd had it. Also, it was wrapped in tinfoil like an adorable Chipolte burrito. Naturally I
unwrapped it appropriately
.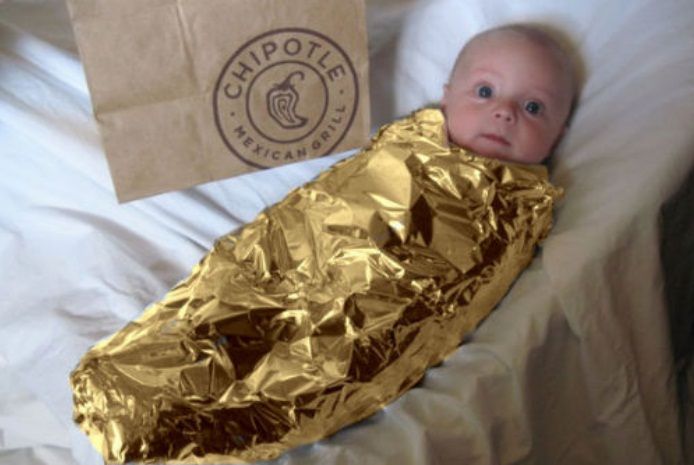 As I cleared the tinfoil from his tiny face, he opened his eyes & I realized that this baby is the shit that Gerber dreams of. Cutest. Baby. Ever.
The fact that I am now the mother of a future teen heartthrob is beginning to set in, and I realize that I have literally nothing that a baby requires. Crib? Nope. Diapers? For amateurs. I ask my best bro Chad and my mother (who seem entirely unaware that i just whipped out a burrito baby,) to immediately take me to the store for the necessities. They deny me, too enthralled with candy crush or some shit to appropriately address the situation. So I do the next obvious step. I start cutting up all of my dad's t-shirts to create makeshift diapers.
As I try to fit baby with it's makeshift Harley Davidson diaper the following happens...
me: I'm really sorry about this whole t-shirt diaper baby. I'm trying here. MOM. Seriously quit it with the candy crush. We need to get to Wal-Mart ASAP, baby is shitting everywhere!
Baby stands up and drops diaper.
baby: (looks down at himself) Holy shit, I have a huge dick. Look mom! It's never fitting in there.
me: What the fuuuuucccckk....
baby: Hung like a mothafucking horse. Hell yeah! high fives me like a tiny, shit covered, badass.
me: OMG this may be the greatest moment of my life. I have a talking, cursing, amazing baby. Mom, seriously what the hell are you doing? This baby is like a tiny adorable Gilbert Godfried right now and you're playing a game! Sorry about the t-shirt diaper baby, your grandmother apparently hates us.
baby: It's fine, I'm fucking adorable in anything.
And I wake up. My first thought went something like shit, maybe that second bottle of wine wasn't the best idea... but my second, more enlightened thought was... OH MY GOD I AM GOING TO BREED AWESOMELY.
Get in line gentlemen. Get in line.
P.S. My brother just sent me this photo from a Panera bulletin board. It's basically the universe affirming my crazy.
Image Credits : Burrito Baby
1