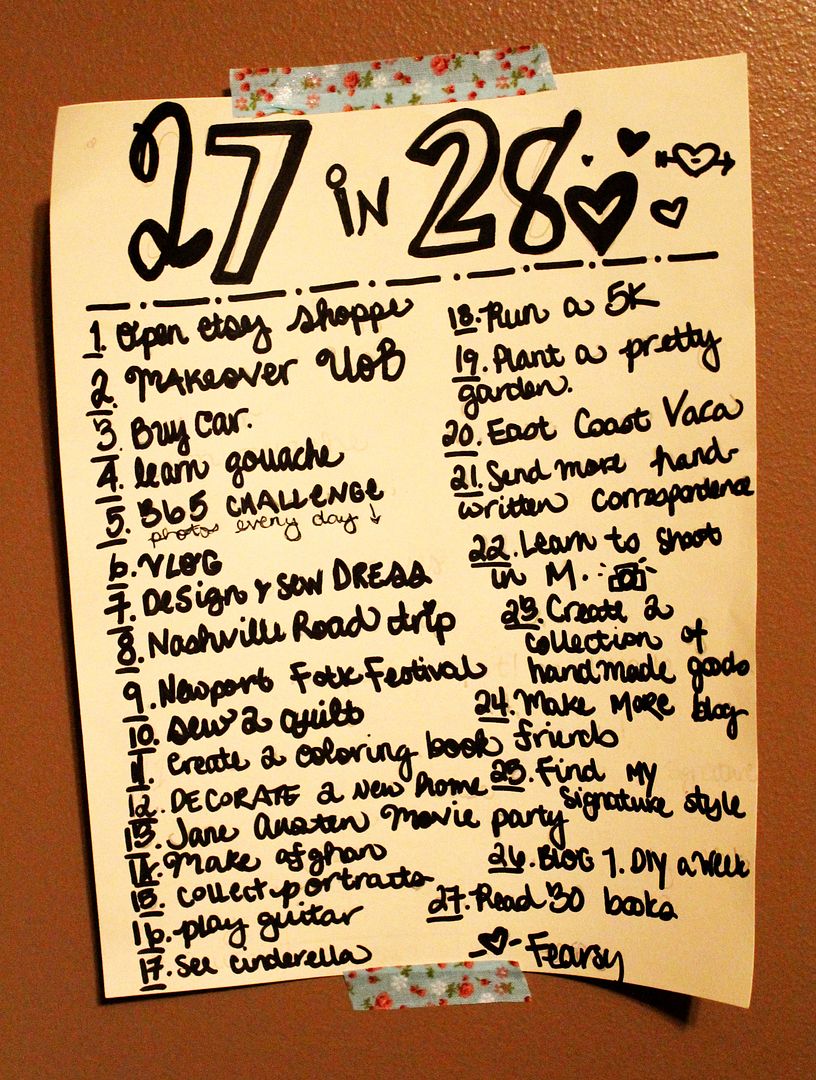 I had a wonderful little birthday weekend spending time hanging out with friends, seeing friends play music, and having a general great time, but now it's back to the grindstone! One of my favorite things to do for each birthday is create a list of tangible goals, things I want to make, to do, to blog, etc. I'm pretty pumped to get started on each and every one of these, the hard part will be trying to figure out which to start first!
For a little more explanation behind them...
♥ Open Etsy shoppe ♥ So this was actually one of my big goals for last year that never came entirely into fruition. I've got a name, and most of a store set up, now i just have to organize my product and take photos. I'm so excited to see it come to life!
♥ Makeover UoB ♥ I love my little internet space, but I'm working towards creating something a little more streamline for the new year.
♥ Buy car ♥ About three years ago I sold my car because there was no need for one while living in Boston. Now that I'm back, I've gotta save up my change and buy a new car. I really want a Prius :) We'll see!
♥ Learn gouache ♥ I am smitten by the paintings created by Rebecca Seale of Dear Friend, and am dying to learn the technique!
♥ 365 Challenge ♥ Now that I've done a month long photo challenge, I'm going to up the ante and go for a full year. It's incredibly simple (to hopefully motivate me to never miss a day,) just take a photo every day. I'll be sharing them on Instagram and this blog sporadically.
♥VLOG ♥ I love seeing other bloggers personalities shine when they do video blogging, so I want to try it as well this year!
♥Design and sew a dress ♥
♥ Nashville Road Trip ♥ I haven't been to Nashville in years, but I've always loved the city and it's pretty reasonably close to home. I can't wait to have a mini weekend trip with friends, (and maybe I can lightly stalk Jack White. Just lightly.)
♥ Newport Folk Festival ♥ I will never miss this festival. EVER. It's amazing.
♥ Sew a quilt ♥ Lately I've been obsessive with pretty quilts, & I'd love to make one with pretty fabrics. (My brother wants me to make him one with a duck too, maybe I'll get busy on two!)
♥ Create a coloring book ♥ This has been a project that's been brewing in my mind for quite some time... I can't wait to get started.
♥ Decorate a new house ♥ I've been staying with my parents as I was looking for work and while I LOVE being so close to them all the time, I'm pretty eager to get a place of my own to decorate and spread out in. Decorating a home is one of my favorite pasttimes.
♥Jane Austen movie party ♥ My friend Lucy and I are obsessed with Jane Austen in a big way. I want to throw a party where we watch our fave movies together, eat pretty food, and have a tea party.
♥Make afghan ♥ Ripple and Granny Square please
♥ Collect portraits ♥ I've been dying to buy a custom portrait from my favorite artist Nan Lawson of Monty and I, but lately I've been thinking how fun it would be to begin collecting lots of them! Any suggestions on other artists?
♥Play guitar ♥ Every year I say I'm gonna learn the guitar, this time, I'm serious. Teach me!!
♥ See Cinderella on Broadway ♥ The other thing Lucy and I have been obsessed with since childhood? Rogers and Hammersteins' Cinderella, so naturally, when we found out they were bringing it to Broadway, we were ecstatic. I will be buying tickets the MOMENT they are available!
♥ Run a 5K ♥ I ran (weeeellll mostly ran,) one 5K this year on Thanksgiving, but I'd like to do a few more. I'm pondering doing the #mileaday challenge for a month too...
♥Plant a pretty garden ♥ One of the negatives about city living, no pretty gardens! I can't wait to get to planting again.
♥East Coast Vacation ♥ I have been missing my Boston and NYC besties and my boyfriend DREADFULLY. Now that I'm making money, I think it's high time for me to make a visit happen! (Well when my vacation time is available....so in 6 months)
♥Send more handwritten correspondence ♥
♥Learn to shoot in the M ♥ I am going to learn how to Manually shoot this year. I'm really hoping to improve my camera technique a lot.
♥ Create a collection of handmade goods ♥ I've got a theme in mind, just gotta get to cracking on this one!
♥Make new blog friends ♥ One of my favorite things about blogging is meeting new people and I want to get to know y'all!
♥Find my signature style ♥ I have always admired people who have a "look" and clothing that is uniquely them. This year I want to define my style and begin to buy statement pieces and staples to complete my looks.
♥ Blog 1 DIY a week ♥
♥ Read 30 books ♥

Too excited to get started! I'd love to know what projects y'all would like to accomplish this year or if you have any suggestions for my goals! xoxo Fearsy